Jewelry the quintessential part of a woman's life has come a long way in India. It is no longer used mainly during weddings and has become part of the women's everyday lifestyle.
In 2012, the fashion in jewellery is expected to be highly diverse. This is the year for classic designs and big sizes. The year 2012 will be all about sustainable jewellery that can be recycled and reset. It is time to bring out all that traditional jewellery lying around that hasn't been worn for many years. Jewellery that is bold is in. This is the year for vintage jewellery worn in contemporary style.
One of the must haves in this year is a choker necklace which is essentially a big necklace worn very close to the neck. Depending on the how long and thick the neck is, the size of this neck piece can vary. Women with long thin necks should prefer a chokker that is broader and bigger whereas those with smaller thicker necks should choose dainty styles.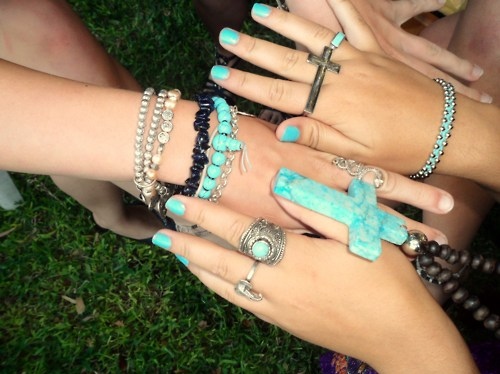 Blue is the colour for jewellery this season. Even though paradoxically jewellery is known to take away the blues of many women. Another style that will make an impact are crosses which can be of any size, style or colour.
The year is also expected to see a lot of floral designs in jewels and accessories. The rings, bracelets, headgear, pendants and every other kind of jewellery will have flowers whether made from dry recycled paper or some shiny fabric. This year will also see a lot of resin jewellery. These chunky and bright pieces will be in vogue this year.

2012 is about making a statement through every accessory. Head jewellery with flowers and other styles will be a trend not just confined to weddings but to everyday street wear. This was a style that came in last year but has grown and spread this year. Hair accessories and ornaments will be the most unique jewellery trend of 2012.

Trends in gold jewellery will follow a different path. India's fascination with the yellow metal is world famous.Gold being highly malleable can be reshaped easily. This Indians understand and even though still emphasize it as an investment that would reap profits in future, also demand intricate and detailed designs. This is to keep up with the trend of small delicate designs as compared to big impractical ones. This year gold will come out as the most versatile metal which can be used not just with precious and semi-precious stones but also with inexpensive materials and metals. Gold will be seen as a perfect material for an artist to show his craftsmanship and the more intricate the design, the more appreciation it will be garner.